Dreaming of Brighter Days Ahead
COVID19 Travel Information
With the fluidity of information on the coronavirus, we are taking extra steps to keep our guest rooms and common areas both inside & outside, safe and clean for our guests, our staff and the community at large.
Any important details from the State of Massachusetts will be provided here & find further information (see the link at bottom).  SAFETY FOR OUR GUESTS, STAFF AND MITIGATING THE SPREAD REMAINS AN UTMOST PRIORITY!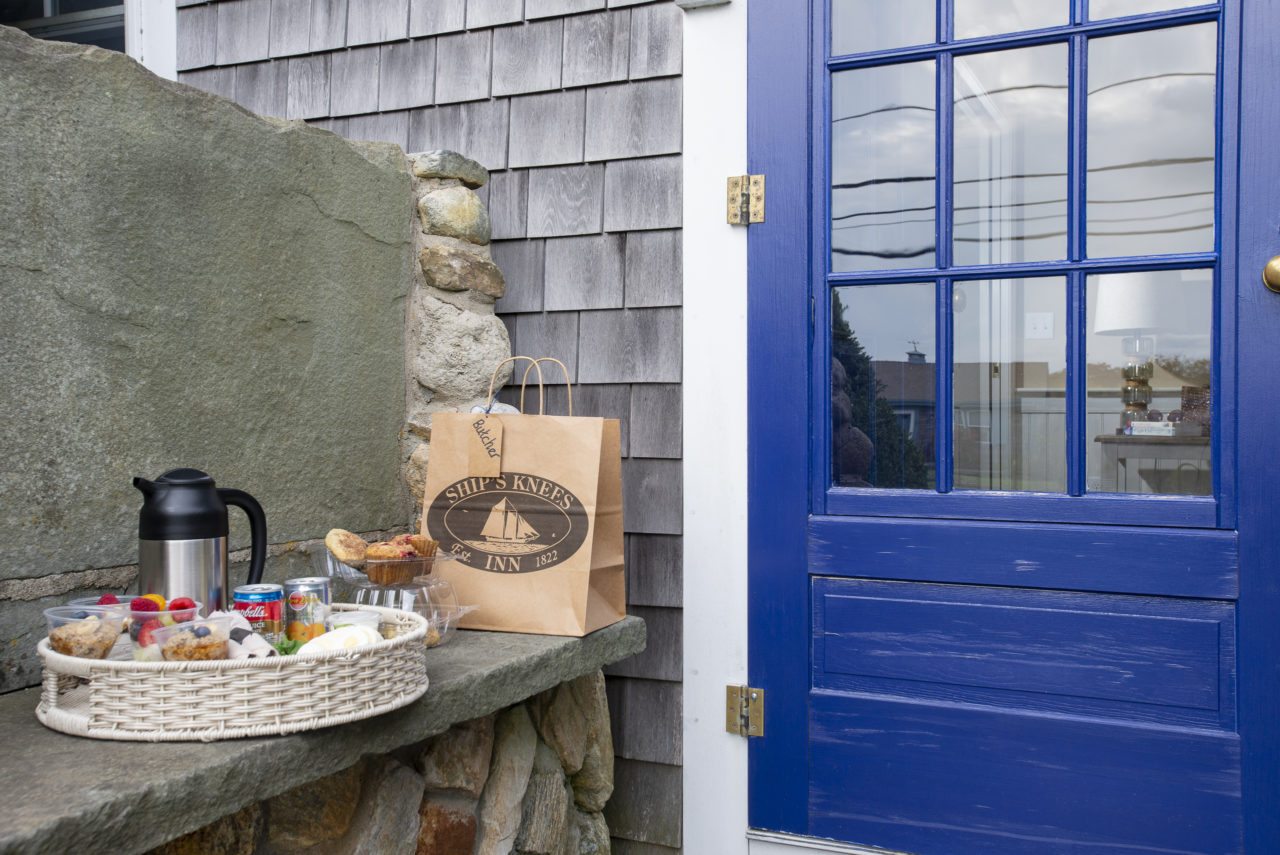 Stay Small-Stay Safe
We have made changes to our pre-COVID19 processes and procedures which include intensifying our routine cleaning, sanitizing & disinfecting with "recommended best practices" from the CDC, the American Hotel & Lodging Association (AHLA), MA Lodging Association (MLA), MA State & Orleans Boards of Health.  We remain committed to upholding the highest standards of cleanliness and have taken an extra level of sanitary precautions so you can feel at ease during your stay. We have been owners of the Inn for 36+ years & owner/innkeepers over the past 18 years and have a strong sense of what our many repeat guests require in order to feel comfortable to consider traveling again. The COVID19 response measures identified below & currently in effect are helping us continue to provide a safe and clean environment for all:
In addition to the normal cleaning, sanitizing & disinfecting that we complete we are also frequently disinfecting all high-touch areas & all non-porous (hard) surfaces in your guest room and bathroom with an EPA approved "N List" disinfectant recommended for use with the coronavirus COVID19. We have also adopted the "Safe Stay" https://www.ahla.com/safestay guidelines from the American Hotel & Lodging Association (AHLA) & the "Clean + Safe"  recommendations from the MA Lodging Association (MLA).
While we always prefer to welcome and greet you in person we have implemented both a "physical distancing- self check-in/check-out process" that eliminates the need to register at our front desk at arrival or departure. At arrival you may proceed directly to your room. Detailed self check-in instructions will be provided to you by email 48 hours prior to your arrival with our cell phone # included in the event you experience any difficulties. If you prefer to check-in at our front desk our office is open until 6:00PM daily.
We will be serving our buffet style continental breakfast in 2022 from 8:00-9:00AM daily. We have outdoor, private table seating on either of our 2 guest patios or in our breakfast room. As is customary, our kitchen staff have been trained & certified in SERVSAFE food safety procedures.
We are limiting our in-room housekeeping to our guests during their stay unless requested otherwise. No housekeeping staff will enter your room during your stay. If you have trash, we ask that you set the trash bag outside your room between 9:00AM to 1:00PM & we will collect it. If you need replacements of towels, toilet or facial tissue, or other amenities we ask that you text us to the number we provided you with our self check-in instructions during the hours of 9:00AM to 1:00PM (our regular refresh room hours) and we will attend to your needs quickly. Your towels should be placed in the cloth laundry bag provided in your room & left outside your door. We will return new towels, tissue etc in another clean laundry bag placed outside your room door.
All bed pillows include a pillow protector & 2 pillow cases. All bedding, including our top comforters have been laundered in accordance with CDC guidelines after every guest stay. Extra room blankets in your room closet have been laundered & then vacuum sealed to insure cleanliness.
Local magazines & our Ship's Knees "Guest Information Guide" have been removed from your room. Our guide is available on our website by clicking here.
After a guest check-out the room will be well ventilated before our housekeeping staff enters to clean, sanitize & disinfect for the next guest.
15 of our 17 accommodations include in room (en suite) private baths. The remaining 2 rooms which share a bathroom can only be reserved together if rented by one family. If only one of the rooms is reserved by itself, the other room will be automatically "blocked" in our reservation system, insuring "private bath" status for the one room reserved.
We are asking our guests to wash or sanitize hands frequently.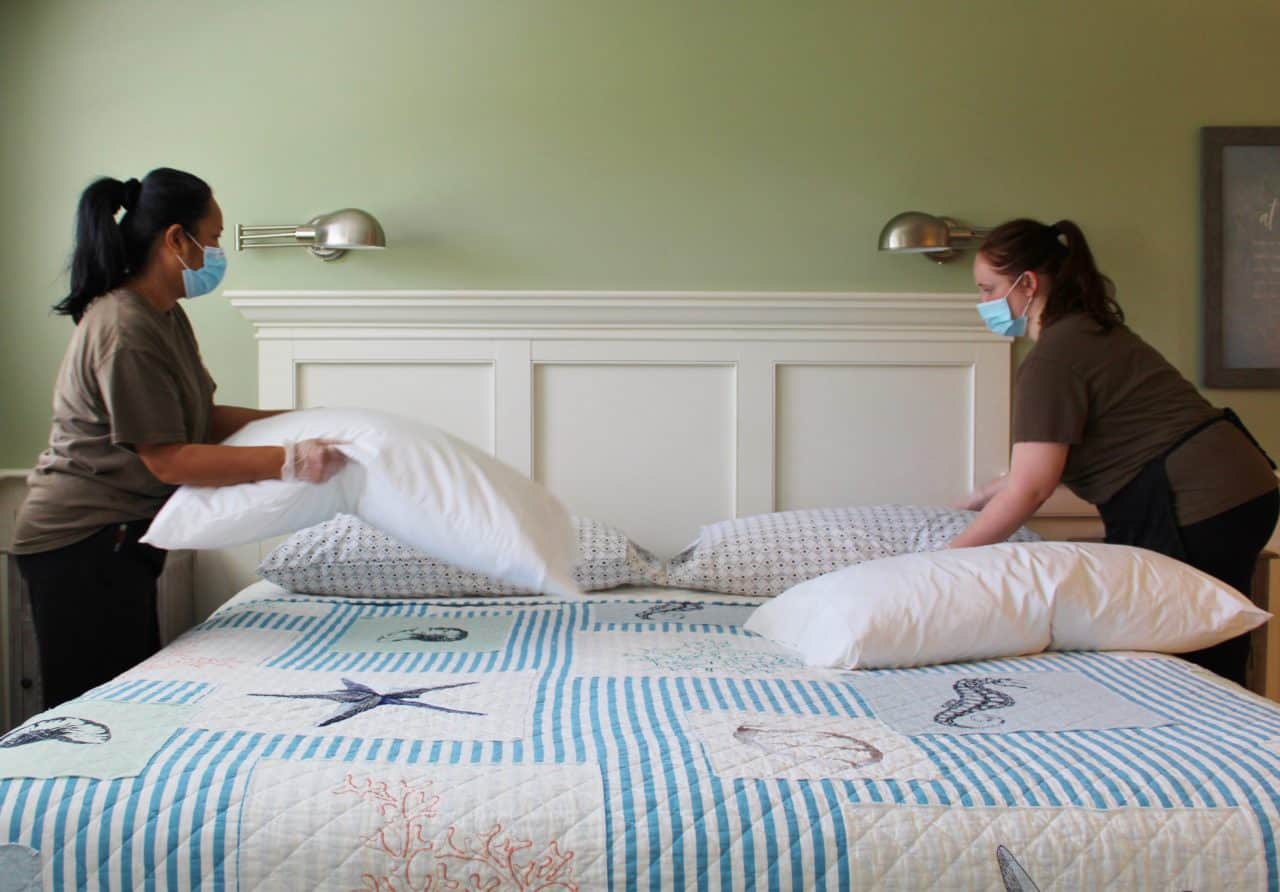 Additional Improvements to Cleaning & Disinfecting in a COVID19 World
Special attention to disinfecting all frequently touched surfaces in guest rooms, entrance/exit doors & common areas throughout the inn.
Use of disposable wipes so that commonly used surfaces (e.g. doorknobs, handrails, chairs, tables, etc) can be wiped down and disinfected by staff throughout the day.
Hand sanitizing stations that include a 70% alcohol sanitize, vinyl gloves & disposable wipes are provided in specific common Inn areas.
Increased cleaning & disinfecting of common areas including both indoor & outdoor furnishings.
Please feel free to call 508-255-1312 or email info@shipskneesinn.com if you have any questions or concerns as we continue to monitor the advice and direction of the CDC, the American Hotel & Lodging Association, MA State Health Department & our local Orleans Board of Health. We sincerely appreciate the trust you place in us when you travel, and we encourage guests to stay informed about COVID19 in Massachusetts at https://www.mass.gov/info-details/covid-19-updates-and-information
Sincerely,
Peter & Denise Butcher, Owners/Innkeepers