Truro Vineyards began delighting wine enthusiasts in 1991 with the planting of 2000 grape vines in the vineyard's sandy soil nurtured by a temperate climate and balmy, Atlantic Ocean breezes. Owned and operated by the Roberts family, Truro Vineyards is the only five-acre vineyard in the area that grows Vitis vinifera, or grapes derived from European grapes specially cultivated to make raisins and intensely delicious wines.
Truro Vineyard grapes are hand-picked and produce wines such as Cabernet Franc, Merlot and Chardonnay. In 2014, the Roberts have handcrafted 13 different wines so far and invite everyone to come and enjoy tasting their wines under a newly built pavilion.
The Lighthouse Series of wines features wines and wine blends in lighthouse shaped bottles. These delicious Lighthouse wines are a delightful reminder of your visit to Cape Cod! Or purchase them as gifts for friends or family.
In addition, Truro Vineyards is committed to maintaining environmentally friendly business practices. Not only do they compost and recycle whenever possible, they have made "green" improvements to their winery.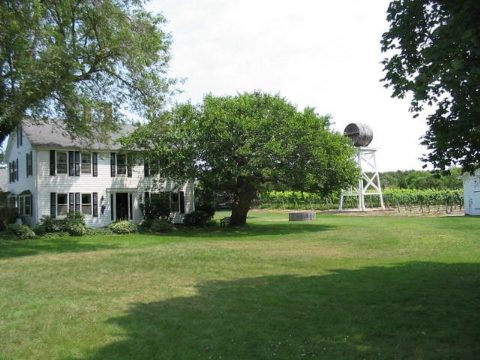 Between Memorial Day and Columbus Day (October 13), the Roberts provide free guided tours every weekend which include a walk-through of their famous barrel room. Guests are also invited to picnic on the lovely grounds of Truro Vineyards and browse a gift shop full of eclectic wine accessories, drawings by local artists and other unique food products.
Truro Vineyards is open Monday through Saturday from 11:00 am to 5:00 pm. Sunday hours are 12:00 pm to 5:00 pm. Visitors do not need to make a reservation for wine tasting activities.
Located at 11 Shore Road, Route 6A in North Truro, MA, Truro Vineyards is also hosting a variety of events this year that include yoga sessions every Thursday morning starting at 9:30, a Truro Treasures Grape Stomp and Music Festival on September 21, 2014 and a Vinegrass/Bluegrass Music Festival on October 4th.