One of the many reasons that the fall "shoulder season" on Cape Cod has gained in popularity in recent years is the more subdued pace when compared to the busier summer months. With today's plugged-in lifestyle, many people feel the need to use precious vacation time to really relax and recharge which makes a visit to the Cape in the autumn months especially appealing.
For those who prefer to vacation in the summer, yet want solitude and downtime, Cape Cod may not come to mind.  But it can be done! Finding a spot all to yourself, or nearly so, on the Cape in July and August is all about knowing where – or when – to go.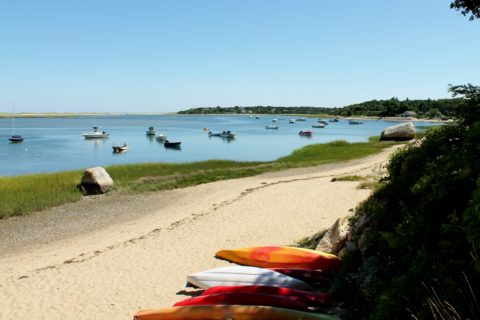 Where to Go: Priscilla Landing, one of our favorite fairly secret spots, is right up the street from the inn. With a public parking lot, Nauset Beach draws people from all over the Cape on a sunny summer day. Yet with only limited parking for residents, the beach at Priscilla Landing is relatively deserted. While you won't find the big waves of Nauset Beach at Priscilla Landing, which is on a cove, you will have plenty of sandy beach all to yourself. For those seeking bigger surf, a short walk up the shoreline ends on the north side of Nauset Beach. Priscilla Landing is also a great spot to put in for kayaking and paddleboarding.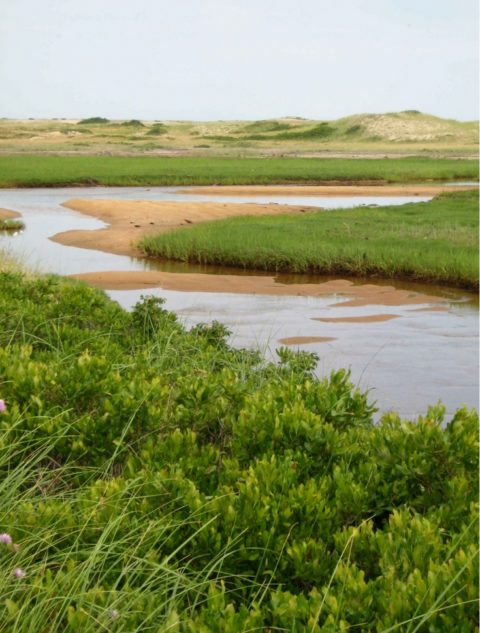 Those who like to hike, but prefer the path less traveled, may find the self-guiding trails included in the Cape Cod National Seashore brochure a bit crowded in the summer.  Many people don't know about the fire roads that crisscross the Seashore. One especially beautiful one, the road to Hatch's Harbor, is out in Provincetown. Closer to Ship's Knees Inn is the Monomoy National Wildlife Refuge. We've hiked this trail (shown above), which runs along the beach, on Fourth of July and passed only a handful of other people. And while the bike trail in Harwich can get quite busy, the footpaths just off of the bikeway are quiet.
When to Go: When it comes to dining out and enjoying popular attractions in the summer months on the Cape, consider skewing your timing slightly if you favor a more intimate experience.
If you're planning on walking down to Nauset Beach to spend the day, try getting there by 9:00 a.m. – about an hour before the bulk of beachgoers arrive – or waiting until early afternoon. By 2:00 p.m., families with young children will be leaving for the day, and people who work in the restaurant industry, of which there are many, will be heading to work.
When it comes to making dinner plans, the early bird gets their pick of tables. With most people dining after 6:30, it's unusual to encounter a wait if you arrive by 5:30. By the time others are starting to queue up, you will be finishing a leisurely meal. Should you want to head to Sundae School or Emack & Bolio's for an ice cream cone after dinner, you'll arrive when everyone else is still at dinner. Consider the chance to catch sunset at Rock Harbor or Skaket Beach an added bonus of taking the "early approach" to dinner.
A summer vacation on Cape Cod can be the best of both worlds; exhilarating and relaxing. Care to join us?