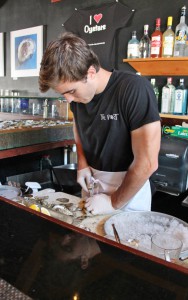 "He was a bold man that first ate an oyster."
As the quote from Irish satirist Jonathan Swift indicates, raw oysters on the half shell aren't especially pretty. Opting to eat a gray, gelatinous blob plucked from the sea – without cooking it – just doesn't sound very appetizing.
But, oh; the taste.
Savored without the common accoutrements of spicy cocktail sauce and fresh lemon, a raw oyster is the very embodiment of what the ocean should taste like; crisp, cold and clean, and just a little bit briny. Add cocktail sauce and a squeeze of lemon, or a tangy mignonette, and you have an explosion of seaside flavor.
For the record, the first people 'that first ate an oyster' may well have been the indigenous of people of the Americas. It is believed that the tradition of eating oysters on Cape Cod goes back to the beginning of mankind itself, and it is quite possible that oysters were part of the feast enjoyed by the Pilgrims and Wampanoag Indians at the first Thanksgiving in 1621.
With the proliferation of oyster farming in the 'water, water everywhere' off of Cape Cod, there are now 'oysters, oysters everywhere.' From roadside clam shacks, which serve Cape Cod fried oysters with a side of tartar sauce, French fries and coleslaw, to the finest restaurants on Cape Cod, who may dress them with a wasabi crème fraiche or caviar and sour cream, you'd find it difficult to find a restaurant that doesn't offer oysters. And for that, we thank them.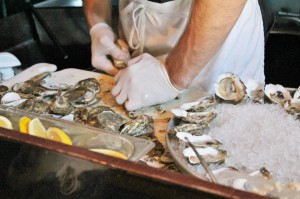 Oyster farming also means that there is now a real science applied to growing Cape Cod oysters. Where an oyster is grown can greatly affect a Cape Cod oyster's taste. While a Wellfleet oyster, raised in beds in Cape Cod Bay, may have a touch of mineral to its flavor, a Chatham oyster raised in a saltwater river will likely have a brinier nuance to its taste. Another Cape Cod Bay oyster with its own signature flavor are those grown at East Dennis Oyster Farm. Because it's a matter of personal preference, it's tough to say which are the best Cape Cod oysters. You'll need to take a tasting tour and decide for yourself!
Cape Cod oysters are so celebrated that the tasty little bivalves have spawned 'Oyster Happy Hours' at area restaurants and have their very own festivals.
Whether you're just coming off the beach or headed out to dinner, an Oyster Happy Hour – which typically features raw oysters at just a dollar apiece – is the perfect way to enjoy fresh Cape Cod oysters on the cheap. The Port in Harwich Port, the Oyster Company in Dennis Port, and Mac's Fish House in Provincetown, all serve dollar oysters in the afternoon or early evening.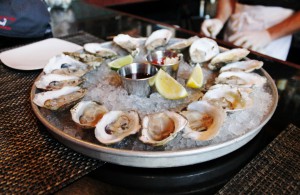 If the question is 'Where's the [oyster] party?' the answer is at the Wellfleet OysterFest. What started as a small, local event in 2001, in an effort to draw visitors to the sleepy seaside town after Columbus Day Weekend, is now one of Cape Cod's biggest annual events. The festival, which has been featured in publications around the world, now attracts tens of thousands of visitors each year who enjoy two days of live music, beer and wine, family activities, and hundreds and hundreds of bushels of fresh oysters. The signature event, the Oyster Shuck-Off, draws a huge crowd and huge bragging rights for the lucky winner.
If you'll be visiting Cape Cod and have yet to try one, we suggest that you be 'bold' and eat that first oyster. Plucked from the chilly, salty waters that surround our beloved sandbar, they are the epitome of the taste of the Cape. And if you're already a fan, you're going think you've found oyster-eating nirvana when you dive into the local dining scene.