Cape Cod is all about the ocean. It was the miles of sandy beaches that first drew summer visitors to our shores in the 1800s, and they are what have made the Cape one of the top vacation destinations in the world. When you visit, you'll want to spend as much time taking in the gorgeous oceans views as possible. With that in mind, we've pulled together information about our favorite waterfront restaurants. All are open seasonally and serve lunch and dinner.
Cap't Cass Rock Harbor Seafood; 117 Rock Harbor Road, Orleans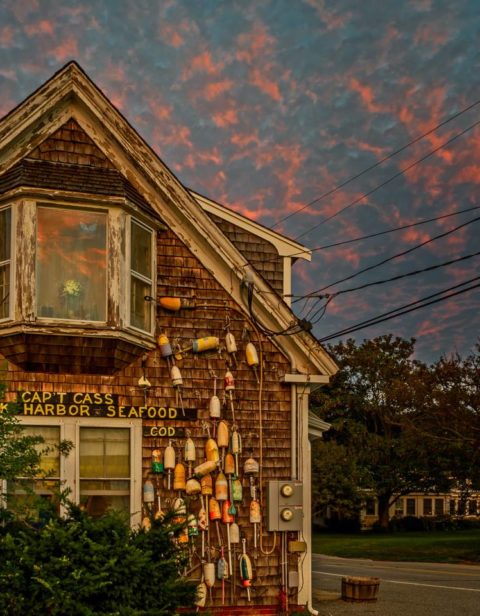 Don't expect to find white linens and crystal at this weatherworn seafood shanty on Rock Harbor, located just a few miles from the inn. Do expect heaping plates of fresh, local seafood perfectly fried to a golden crisp, a hefty lobster roll at a reasonable price, and classic clam chowder. While the views of the water inside the humble dining room – think flip-flops and sandy floors – aren't spectacular, the food is, and, with one of Orleans' most picturesque harbors right outside the door, you can opt to take your food to-go and enjoy a beachside picnic.
Outer Bar & Grille; 2173 Route 28, Harwich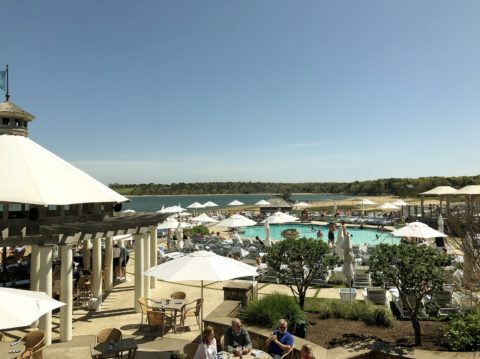 With a dazzling view of Pleasant Bay on one side, and the stunning waterfront pool on the other, there are no "bad seats" at Outer Bar at Wequassett Resort and Golf Club, which is about seven miles west of Ship's Knees Inn. Most of the seating is on a large, wrap-around veranda, which means you can savor the ocean breezes as you tuck into fried clams or one of their signature poke bowls – Asian-inspired dishes added to the menu this season. Outer Bar does serve lobster rolls, fish and chips, and chowder, so it's kind of a clam shack, but done at an elevated level and with unexpected touches.
The Beach House; 297 Shore Road, Chatham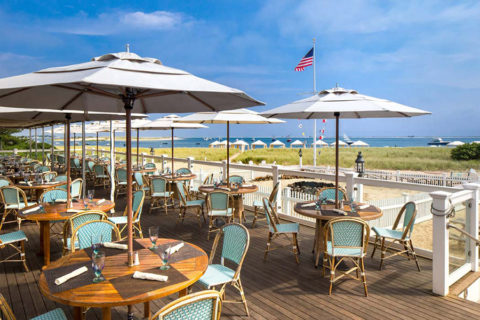 The name kind of says it all, doesn't it? Continue west another four miles past Wequassett and you'll arrive at Chatham Bars Inn, where The Beach House is located. Like Outer Bar, The Beach House has an upscale resort vibe, but while Outer Bar is perched above the water, The Beach House sits right in the sand. Ample amounts of outdoor seating, and retractable walls in the dining room, make this another great spot to feast the senses on the ocean view, sea breeze and salty air. Seafood, much of it locally sourced, is the main attraction on the menu.
Ocean Terrace; 2907 Main Street, Brewster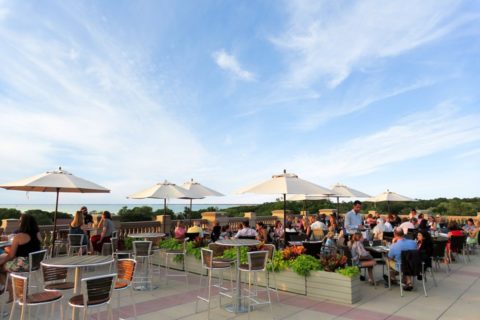 Located in Brewster, northwest of our inn, is Ocean Terrace, the rooftop bar at Ocean Edge Resort & Golf Club, which boasts views of beautiful Cape Cod Bay and the famed "flats" – the miles-long sandbar that emerges at low tide. An enormous horseshoe-shaped bar is a favorite place for tapas and signature cocktails; one of the fire pits surrounded by sofas is a great place to relax with friends…or make new friends. The crab cakes with charred pineapple alone are worth a visit. Open for breakfast as well as lunch and dinner.
Sesuit Harbor Café; 357 Sesuit Neck Road, Dennis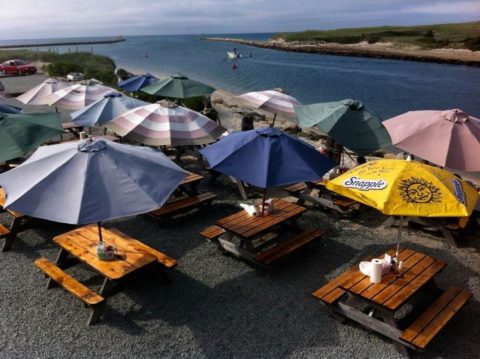 West of Ocean Edge is Sesuit Harbor Café, another clam shack perched on yet another picturesque harbor. There are several choices for those who don't enjoy seafood. Those who do enjoy seafood will be in heaven. The lobster roll is the go-to choice for many who visit this dockside eatery, but should you prefer fried local seafood, you'll find a huge selection. Chowder, steamers, stuffed quahogs, and raw bar items round out the expansive menu. The food is served on paper plates; seating is at picnic tables: you get the idea. Fun. Casual. Fabulous. Please note: This restaurant does not accept credit cards; there is an ATM on-site.
Pearl; 250 Commercial Street, Wellfleet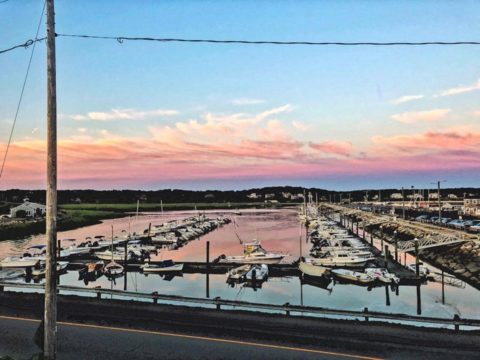 While a couple of our choices are classic clam shacks, and others are at posh resorts, Pearl, which is east or "down Cape" of the inn – is right in the middle of the high-low restaurant spectrum. Flip-flops are certainly appropriate here, but so is getting a little dressed up for an evening out. The first-floor dining room has rustic appeal, but it's the open-air, second-story deck with epic views of Wellfleet Harbor that gets our vote. Like the overall feel of the restaurant, the menu spans the space between shanty and swanky, with appetizers such as stuffed quahogs and stuffed brie, and entrees that include fried seafood and simply prepared grilled local fish.
The Beachcomber; 1120 Cahoon Hollow Road, Wellfleet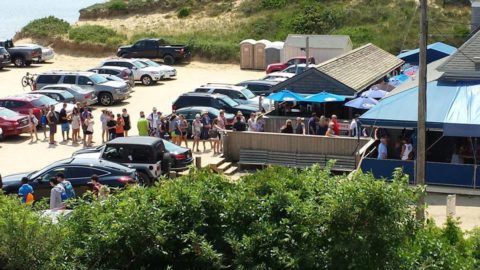 By day, the Beachcomber, set on a dune overlooking Cahoon Hollow Beach in Wellfleet, is a family restaurant where people wander in from the beach – often in their bathing suits – for a casual meal on the outdoor terrace. By night, it's a rocking good time. Well, that is with the exception of Sundays, when it's a rocking good time from opening until closing. Open, and nearly unchanged, for 42 years, the 'Comber is the very embodiment of the let-your-hair-down vibe that vacationers crave. For that matter, locals love it too, which is why this place is packed all season long. The menu is extensive, and the food quite good, but it's the atmosphere – it is just so Cape Cod – that makes a visit one of our "musts" every season.