If you're planning a trip to Cape Cod, the first thing you will want to do is decide where to stay. As one of the top vacation destinations in the country, Cape Cod is filled with options, with everything from large resort-style hotels to family-friendly motels to historic inns. Should you want to soak in a bit of Cape Cod history, in addition to visiting beaches and museums, dining out, and experiencing a plethora of unique attractions, such as whale watching and kayaking, a Cape Cod bed and breakfast will prove the perfect place to lay your head.
Unlike national and international chains of hotels and motels, where consistency is part of what guests expect, each historic inn on Cape is quite different. So what makes a good, dare we say great, bed and breakfast on Cape Cod?
A great place to begin your search for an exceptional historic inn on Cape Cod is online travel review sites such as Yelp and TripAdvisor. Google also has reviews of many inns and hotels. Reading about past guests' experiences will give you a sense of what sets each property apart.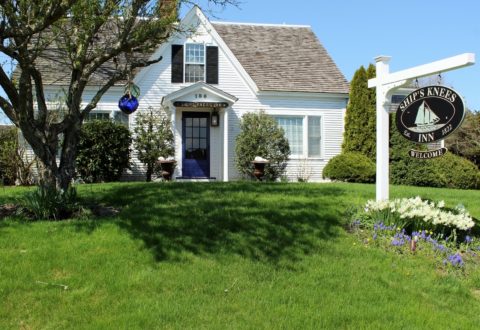 Many of the historic B&Bs on Cape Cod were once homes, and our inn is no exception. At the heart of Ship's Knees Inn is an 1820-built house that retains its original charm and character. It has been added on to over the years, and now has 16 guestrooms and suites, and an apartment with a full kitchen. As is true of most inns, staying at Ship's Knees Inn is a more personal experience than staying in a chain hotel. But because we're one of the larger bed and breakfast/inns on the Cape, you'll feel like you have your own space here, rather than like you're a guest at a relative's house.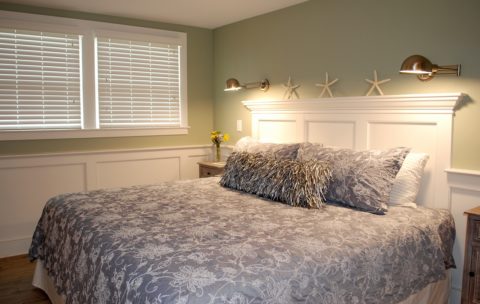 While maintaining the historic integrity of Ship's Knees is important to us, the overall vibe here is beach chic rather than antique furniture museum. We offer modern amenities as well. Nearly every room, all of which are individually furnished, has an attached private bath. Each room has AC, a flat-screen TV, a hairdryer, a refrigerator, and an alarm clock with USB charging ports. Complimentary WiFi is offered throughout the inn and the surrounding grounds.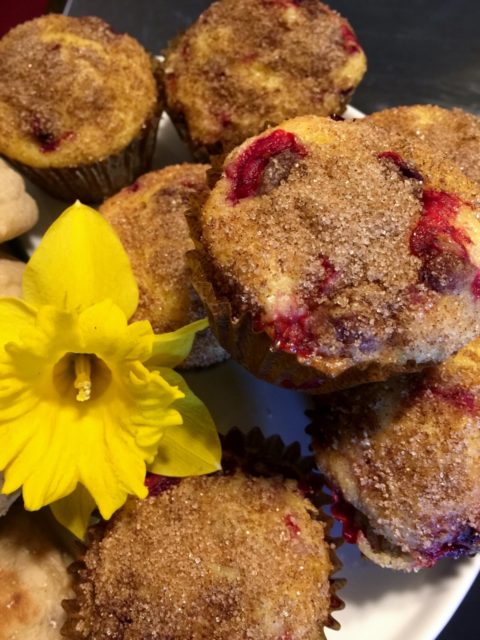 At Ship's Knees Inn, a homemade, complimentary continental breakfast is served every morning. Prepared personally by innkeeper Denise Butcher, breakfast at our inn goes far beyond what one might expect to find at a chain hotel. Fresh fruit and homemade baked goods, such as scones and muffins, are always offered. Denise will also frequently add one of her signature dishes such as baked spiced pears, bananas brûlée, or individual frittatas. Freshly baked cookies, and coffee and tea, are available every afternoon, as well.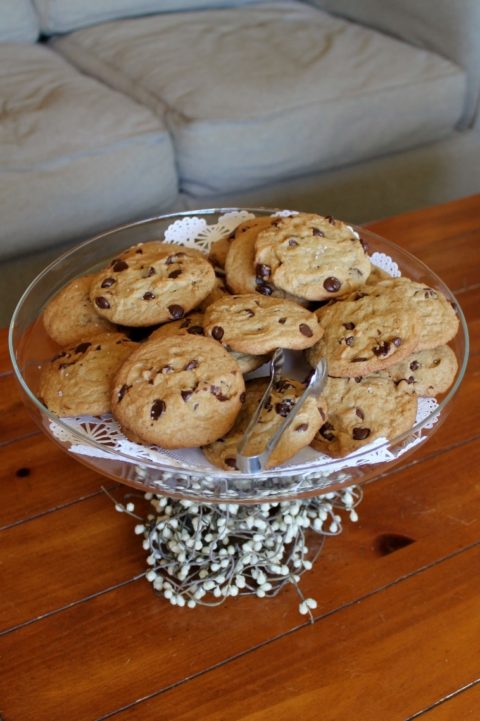 On nice days, many guests opt to enjoy breakfast, or an après-beach treat, in our lushly landscaped courtyard. In the courtyard you'll also find a gas fire pit that casts a cozy glow over the area every evening. Tucked off into one corner of the property is an in-ground swimming pool surrounded by chaise lounges. Should you prefer to head to Nauset Beach, which is within easy walking distance, complimentary beach chairs, towels and umbrellas are at the ready.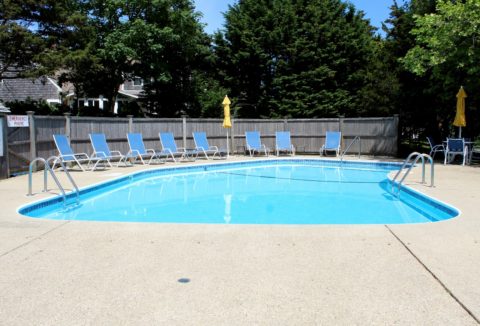 In addition to the amenities offered at an inn, location is another key factor when choosing a bed and breakfast on Cape Cod. Look for one that is secluded enough to let you really unplug, yet located within an easy drive of beaches, restaurants, shopping and attractions.
Located in East Orleans, Ship's Knees Inn is just up the street from Nauset Beach, the Town of Orleans' only ocean beach. In the village of East Orleans are a handful of restaurants, an ice cream parlor, and a couple of shops. It's a sleepy little hamlet. Yet just three miles away is downtown Orleans, the hub of the Lower Cape.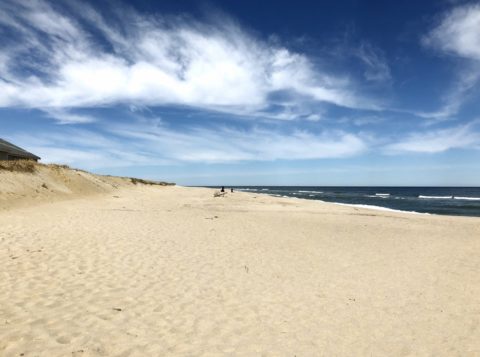 While Orleans is by no means a large city, it has dozens of restaurants, and charming shops and art galleries. It is also the home of the Orleans Firebirds, one of 10 teams in the world-renowned Cape Cod Baseball League, and the Cape Cod Rail Trail, a 22-mile long bike path, runs right through the center of town.
Should you wish to spend time on the water when you visit Cape Cod, East Orleans and Orleans have several options. In East Orleans, within a mile of Ship's Knees Inn, is Blue Claw Boat Tours, which offers seal cruises and sunset sails. On the bay side of Orleans is Rock Harbor, which has the largest charter fishing boat fleet on the Cape. If you'd like to get in a little workout while you're out on the water, grab a kayak or SUP at the Goose Hummock shop, and paddle away the day.
Equidistant from Hyannis and Provincetown, Ship's Knees Inn is also ideally located to act as your home base for exploring Cape Cod and the Islands. West of the inn is Hyannis, where you'll find Cape Cod Beer, the oldest and largest craft brewery on the Cape, and ferry service to both Martha's Vineyard and Nantucket (ferry service to Nantucket is also available in Harwich Port).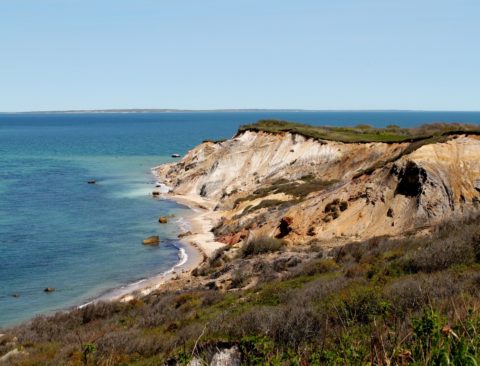 Head east (technically north, but the signs on Route 6 claim it's east) to Provincetown, and you'll feel like you've entered another world. The famed artists' colony has an eclectic mix of restaurants, shops and galleries. Should your travels take you to Provincetown, and time permits, a whale watch is an absolute must!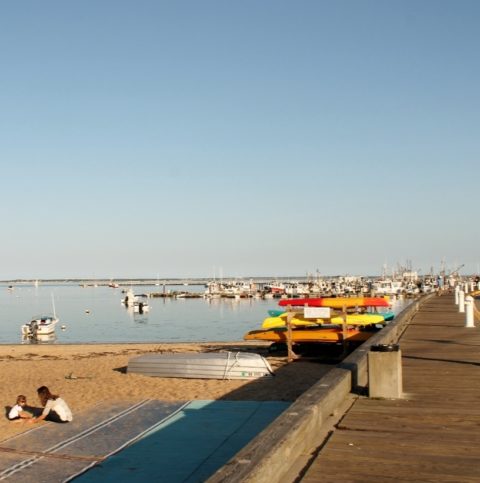 With limited vacation time, you want to do research – on both a destination and the available accommodations – to be certain you will enjoy your holiday, and savor the memories for years to come. Should you decide on Cape Cod, and are planning on visiting during the busy summer season, try to reserve your stay as early as possible, to ensure that your preferred dates are available. Like many historic inns on the Cape, we do offer reservations for a limited number of our rooms on booking websites such as Travelocity and Expedia. However, booking directly with Ship's Knees, either online or by calling, will give you access to our complete selection of available rooms, and the best rates…guaranteed.
History with a contemporary touch; a beach within easy reach; and just the right combination of downtown and action: This is what makes a good Cape Cod bed and breakfast!